.M y F o c u s
within my art are the colors, forms and a dynamic gesture which I create on large scale canvas. Furthermore, to create the final outcome, I'm using alchimistic pigments from various provinces which allows me to create this unique dynamic onto the canvas itself.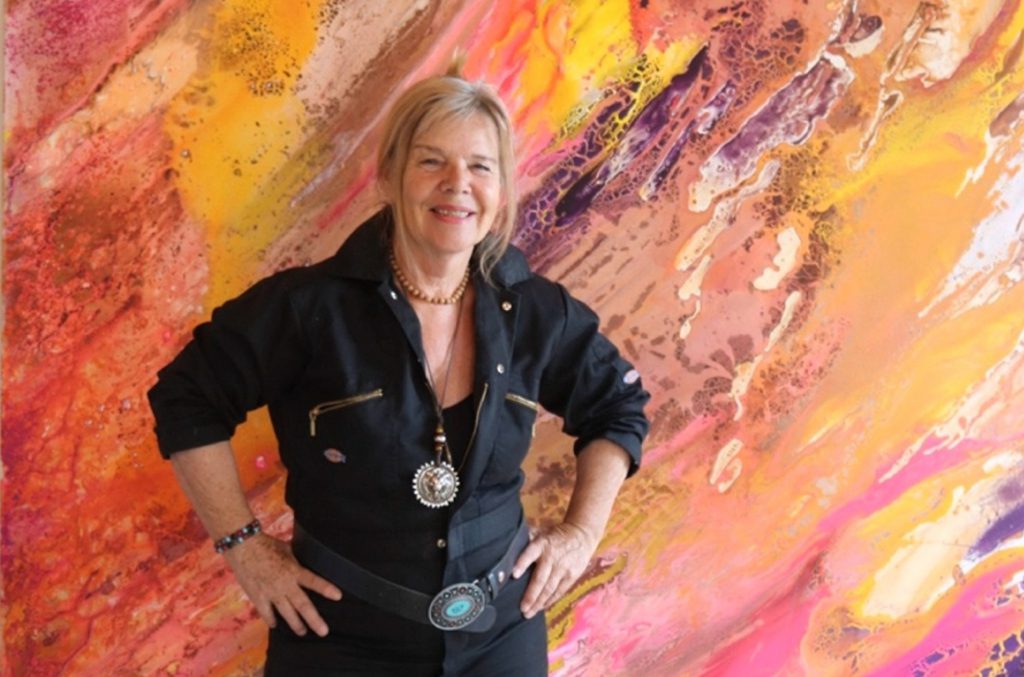 .M y I n t e n t i o n
is pretty clear, it's never about a copy – I aim to showcase the essence from my personal experiences within nature, humans and colors, it's a meditative process and reseach to create my paintings the way they are now.
"The artist creates her art completley different compared to others. It seems that she is on a constant journey to search for color. Within the art process, she uses to showcase the unreal within her big paintings."
R H Y T H M 'N C O L O R S!
Mit meinem großformatigen Bildern möchte ich den Rythmus der Farben zeigen .
Beim betrachten und sich einlassen auf den den Fluss und der Dynamik der Farbläufe entstehen ganz differenzierte Emotionen, da jeder Mensch ein ganz eigene Farbpsyche besitzt.
Zwischen Künstler – Bild – Betrachter kann sich dann ein stiller TRIAlog entwicklen.
.M e i n H a u p t t h e m a
ist die Farbe, Fläche und ein dynamisch expressiver Gestus. Ich arbeite meist mit großen Formaten und verwende alchimistisch – Pigmente aller Provenienzen, die dann auf der Leinwand ihre ganz eigene Dynamik entfalten.
.M e i n e I n t e n t i o n
Nie geht es um ein direktes Abbild es geht um die Essenz von Eindrücken aus Landschaften, Vegetation, Menschen und Farben – die aus der Tiefe der meditativen Recherche kommen.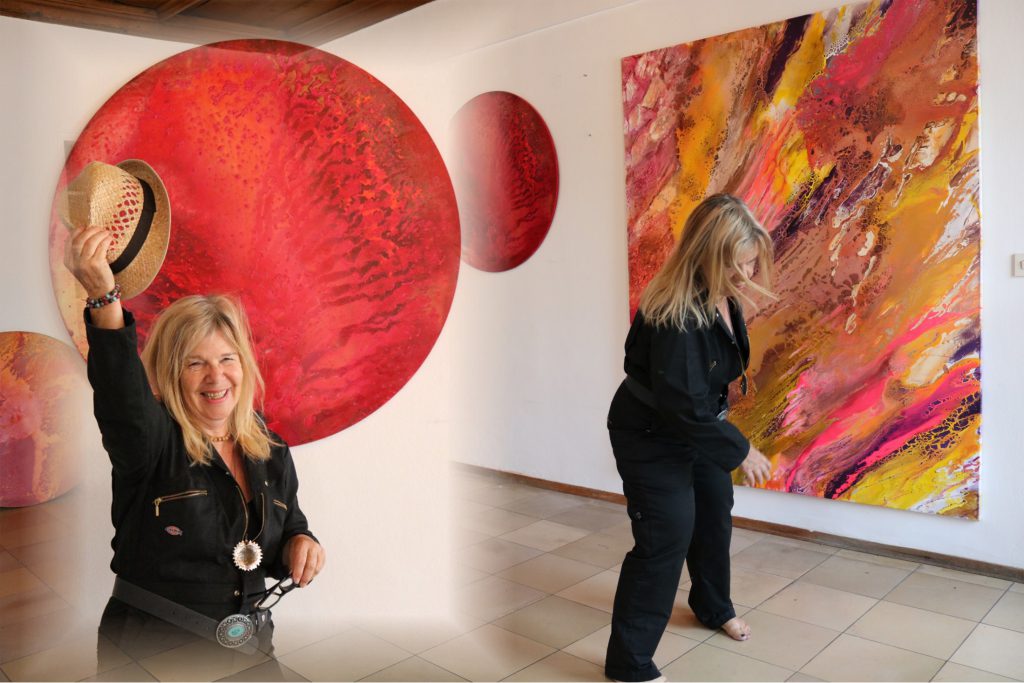 A R T I S TO B E I N S P I R I N G
I'm from m u n i ch | free childhood with nature + a lot of inspiration
clear early »what do I want« | designing and artisting … | schools shortcut
self-determined, comprehensive education in a r t + d e s i g n
seen much of the world … then | I want everything | 1971 | art, design, family
design provides money | art creates pleasure | family is happiness!
2000 change is announced: merits in design are deserved ………..
focus now on P A I N T I N G | exam … | own technique and expression …
2005 oeuvre is presentable | collaboration with galleries
exhibitions and purchases | … future open … | carpe diem & keep the fire burning
K U N S T S O L L B E G E I S T E R N
I'm from m u n i c h | freies kinderleben mit der natur + viel inspiration
früh klar »was will ich« | gestalten und künstlern … | schulen im schnellverfahren
selbstbestimmte, umfangreiche ausbildung in | k u n s t + d e s i g n
viel von der welt gesehen … | dann, ich will alles | 1971 | kunst, design, family
das design sorgt für geld | die kunst schafft lust | die family ist glück!
2000 ist wechsel angesagt: meriten im design sind verdient……….
schwerpunkt jetzt MALEREI | klausur… | eigene technik und ausdrucksweise…
2005 oeuvre ist vorzeigbar | zusammenarbeit mit galeristen
… ausstellungen und ankäufe | … zukunft offen … | carpe diem & keep the fire burning